Please note that the rink is closed on Good Friday, April 7th.
Figure skating schedule may be subject to slight changes due to testing events.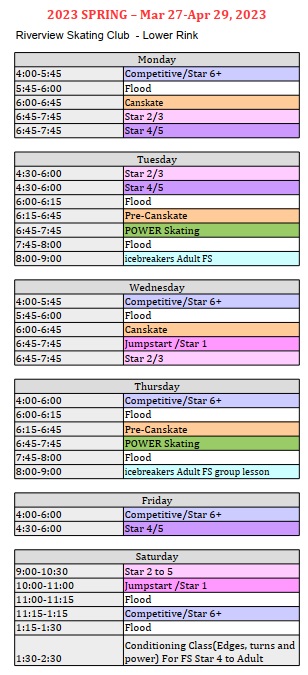 Spring Schedule and Registration open- spots still available.
5 week session March 27 to April 29
Will be offering Canskate, Precan, Powerskating and all Figure Skating programs

Pre-Canskate (ages 3-5): Tuesday and Thursday 6:15 to 6:45 $99
Canskate (ages 6-12): Monday and Wed 6-6:45 $149
Power-skate:(ages 6+, see notes below) Tuesday and Thursday 6:45 -7:45 $199

There is no Pre-power skating offered this spring.

PLUS MANDATORY $58.65 SKATE CANADA MEMBERSHIP FOR SEPT 1, 2022 TO AUG 31, 2023 WILL BE ADDED AT CHECKOUT IF NOT PURCHASED ALREADY THIS SEASSON. This is an annual non refundable fee to Skate Canada.
PowerSkating Notes:
PowerSkating is geared towards Hockey and Ringuette players looking to advance their skating skills.
Skaters must be able to comfortably skate forwards and backwards, as well come to a controlled stop and be able to turn with ease. ( this would be a minimum of stage 4 in Canskate completed)
Ages 6+
All CanPowerSkate participants must have hockey skates, gloves, a stick, and helmet. Full equipment is optional.
Pre-power Skating:
Pre-power is geared to younger and less experienced skaters. However, we do not have a spring prepower program offering this year.
2023 spring schedule v4 Final .pdf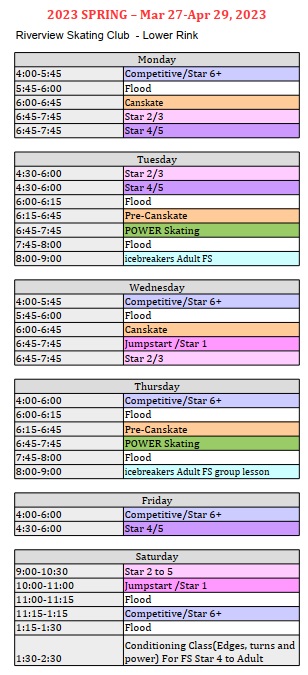 Winter Schedule:2023:
Final3 Nov 6 to Mar 18 2022 23 Schedule.pdf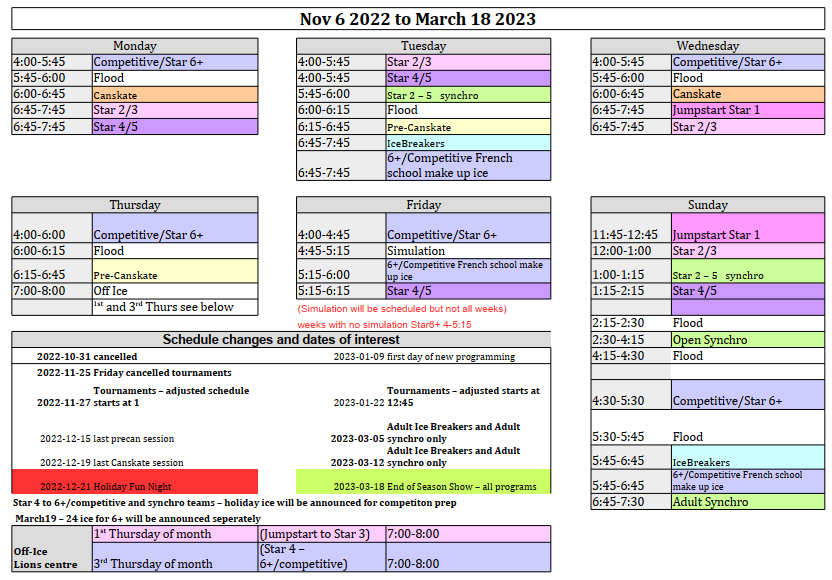 =============================================================
CSA Approved Helmets are Mandatory
for Canskate & Precanskate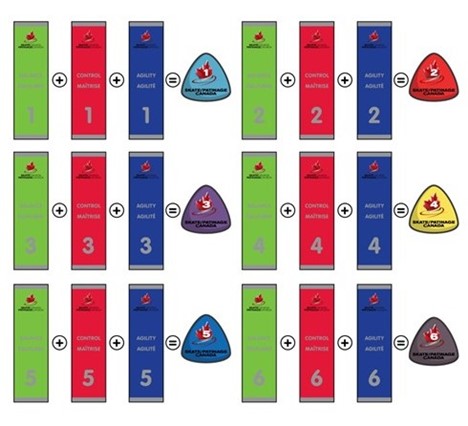 CANSKATE
ONLY THE BEST CAN BRING OUT THE BEST!

Riverview Skating Club is ran completely by volunteers. If you are interested in joining our team please contact us at riverviewskatingclub@gmail.com.